How it works
Some of the best publishing happens in the privacy of the inbox but there's never been a simple way to discover and subscribe to the best email newsletters. Letterlist makes it easy. You're always free to browse the curated collection of newsletters. But when you're logged in you can…
Subscribe to newsletters with 1 click
Sign up (it's $0) and verify your email address.
To subscribe to a newsletter, click the 'subscribe' button and we'll add your email in the background.
The next issue will land in your inbox whenever it's published*.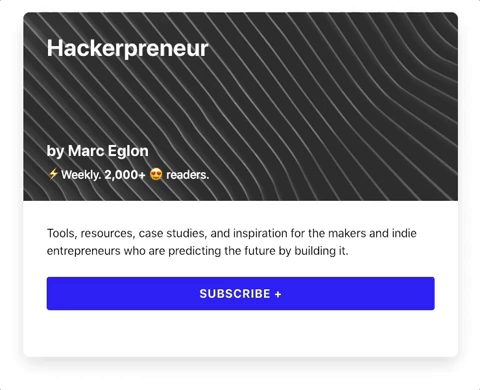 *Some publishers will email a confirmation link that you need to click before getting newsletters. It's a tiny hassle but worth it because it ultimately helps protect your email security.
FAQ
1. Where do I read the newsletters I subscribe to?
Right in your normal email inbox. Some users have asked for a special interface or app just for reading newsletters. But we believe that emails belong in your inbox and we don't want to break a concept that's been working since the 1970's. Besides, you can always use filters and folders to organise your email.
2. How do I unsubscribe from the newsletters?
Once you subscribe to a newsletter, the relationship is between you and the publisher (and we don't want to get in the way). We've vetted all the newsletter publishers to make sure that their emails contain an 'unsubscribe link' so it's easy for you to leave if it's all getting too much or you're not digging it. Again, we don't want to interfere – you are in control.
3. Can I preview a sample of the newsletters?
We're working on it. But for now, I recommend you just subscribe to a newsletter if you're curious. Give it a trial run to get a real sense of what it's all about. Again, it's easy to unsubscribe to each newsletter if it's not for you.
4. Can I submit a newsletter to Letterlist?
Yes, you can. We love to uncover new newsletters – the weirder the better. Just submit the details and I'll check it out. We can't include every suggestion in Letterlist but we'll look at your submission and make a decision. Full transparency… this process is completely subjective and arbitrary so don't even ask about our selection criteria. We just pick newsletters that vibe with us.
5. When I try to subscribe to a newsletter, it says 'subscribing…' but nothing happens. What's up?
First, are you using an ad blocker or other privacy extension? Sometimes they can block the subscription process. For example, if you're using the Brave browser, it can block subscriptions unless you have it set to "shields down" for Letterlist. If you find that this doesn't resolve the issue, please let me know so I can fix it.